First Wednesday of each month, 13:00-14:00 UK time (BST)
Serious fungal infections such as invasive aspergillosis can be difficult to diagnose due to often non-specific features (fever, cough, weight loss, rash, raised CRP, increased oxygen requirement) and low awareness of fungal infections. Many regions around the world have limited access to a mycology lab, and turnaround times can be long for traditional tests such as fungal cultures. This can lead to delays in treatment that cost lives.
LIFE Worldwide has produced a series of webinars aimed at laboratory and clinical staff to explain which tests are available, how to select the appropriate test, how to perform it, and how to interpret the results in a clinical context. Of particular interest are the rapid point-of-care ('bedside') tests, which can return a result in less than 30 minutes.
Summer 2020 programme:
Aspergillus antigen (Weds 3rd June)
Beta-D-glucan (Weds 1st July)
Cryptococcal antigen (Weds 5th Aug)
Therapeutic drug monitoring of antifungals (Weds 2nd Sep)
How to participate:
Register now at bit.ly/2WSXXkQ (choose between English or Chinese versions)
We will email the Cisco/WebEx link and password to you the day before each webinar
Ask us questions during the live Q&A session following the talk
Webinars will be available on the LIFE Worldwide YouTube channel after each event
Aimed at:
Medical laboratory staff wishing to improve or expand their testing capabilities for fungal infections, particularly point-of-care tests
Specialist clinicians wishing to better understand how to select the appropriate test(s) for their clinical situation and interpret the results
Accreditation:
1 CPD credit per webinar attended (RCPath)
Registration is required in order to receive your certificate
Content:
How the test works
Video protocols for carrying out the different assays currently available from major suppliers, including any point-of-care ('bedside') tests
How to interpret and report results, including any important caveats and potential sources of false results
Performance (sn/sp/PPV/NPV) in different diseases and patient groups
Illustrated with recent scientific research and medical images
Live Q&A session
Learn more with LIFE Worldwide
LIFE Worldwide is a sister site of the Aspergillus & Aspergillosis Website, and is supported by the Fungal Infection Trust. It provides medical education (#MedEd) and the latest fungal infection news and research to clinicians and medical laboratory staff around the world.
Follow them on YouTube, Twitter or LinkedIn, or sign up to a quarterly email newsletter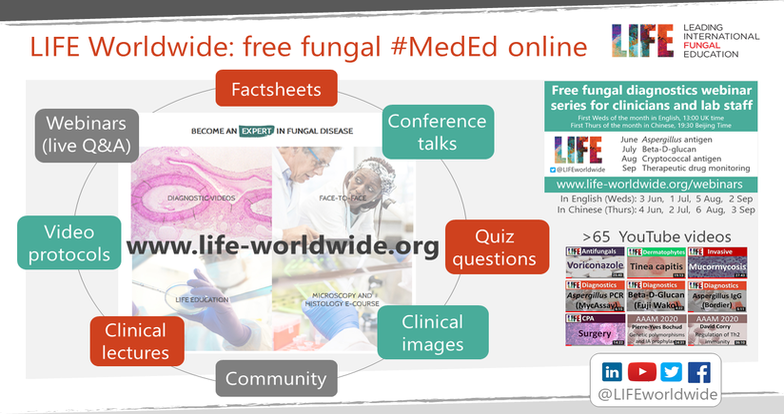 EARN CPD POINTS BY COMPLETING A FREE ONLINE FUNGAL MICROSCOPY COURSE
Our free fungal microscopy course at Microfungi.net is also accredited by RCPath for CPD points: module 2 (18 points), module 3 (24 points), module 4 (30 points). Organized in partnership between the Fungal Infection Trust and the University of Manchester.
LIFE Worldwide
Fungal Infection Trust
PO Box 482
Macclesfield
Cheshire, SK10 9AR
United Kingdom